Do you regularly chat with Kim Kardashian? Or do you have another WhatsApp Chat that's too precious to lose? Here's a quick and easy way to create a WhatsApp backup.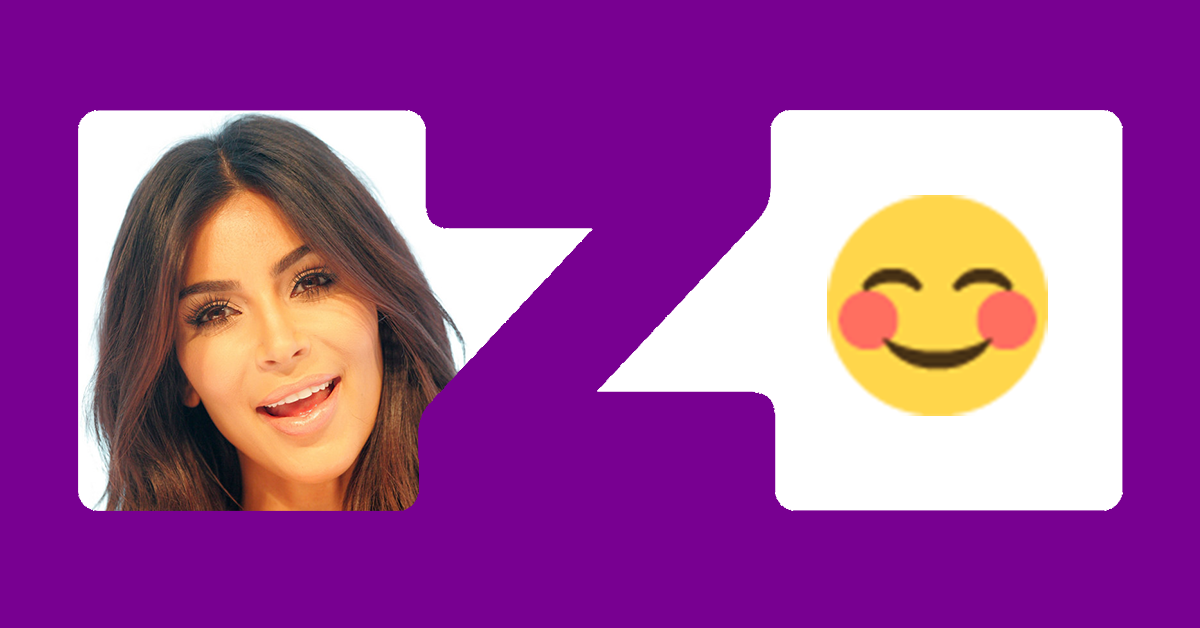 Ok, let's face it. Most of us don't chat with Kim on a day to day basis (and if you do, please tell us more!). But as WhatsApp has breached the 1 billion user threshold, chances are that you have had something special to say to someone special. Be that the chat with your sister who lives far away, the chat with your best friend who you share everything with, the chat with your partner (including the first date, arguments, make-ups, anniversaries, maybe even your wedding), the chat with your parents, the chat about your baby, the chat about your big OZ adventure, the chat with your cupcake group working on ever more creative recipes …. Imagine if all those "Remember that one time…" moments where lost!
Think all these chats are safe on your phone? Yes, they are. But what happens when your phone breaks down, or you just want a new model? Then all your WhatsApp Chats are lost to the width of the digital space out there. Simply gone. Shock! Horror!
What can you do? There is a simple solution. It is possible to export a WhatsApp Chat via Email. You receive a zip file containing your text and pictures which you can then use to create a WhatsApp backup on your personal computer.
To do so, just follow these easy steps:
Select the WhatsApp Chat you want to backup.
Select the email Chat option. Don't forget to hit 'attach media' to include all your images in the backup!
Enter your email address and hit 'send'.
This chart shows you how to export your WhatsApp Chat from iOs and from an Android phone.
iOS:
Android: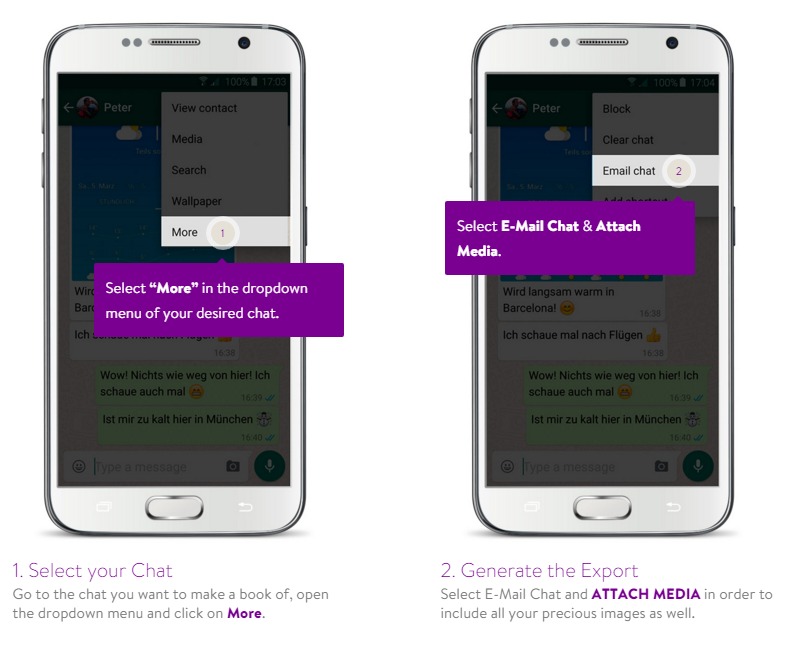 This is perfectly sufficient if your aim is to simply preserve the data for future records. It is a rather boring, unsexy format, though. Not exactly what you'd like your most treasured memories to look like.
Ok that's done – but I want something sexy!
Now here's a way backup your WhatsApp Chat in style: including adding a title, a cover photo, the options to highlight the most important messages and pictures (or delete those really embarrassing ones that you'd rather forget), choose a background, fonts and colours. Instead of sending exporting your WhatsApp Chat to your own email address, send it to zapptales.
zapptales turns your most treasured WhatsApp Chats into a pdf (for those digitally inclined amongst you) or prints them into a beautiful book (for those who like to hold something in their hands). Use the cover and chat edition options to create a WhatsApp backup as unique as your memories. You can keep it on your computer or on your bookshelf. It's also the perfect gift for all those you share these memories with (for inspiration on creating a personal gift check out our previous post). It's fun, creative – and really easy.
Just check it out for yourself: zapptales
Have fun and keep creating special memories,
Your zapptales team
/wp-content/uploads/2020/06/zapptales-header-logo-5.svg
0
0
Anna Kimmerle-Hürlimann
/wp-content/uploads/2020/06/zapptales-header-logo-5.svg
Anna Kimmerle-Hürlimann
2016-04-11 20:00:09
2020-07-14 15:21:01
Create a WhatsApp backup the quick and easy way.